10 Canon m50 Lenses for Video and Sports [2022]
The Canon m50 is a surprisingly good camera, especially when you consider its low price.
But what good is a camera if you don't have any lenses to go with it?
In this blog post, we'll take a look at some of the best lenses for the Canon m50.
Whether you're looking for a lens to take portraits or landscapes, we've got you covered.
So read on to find out which lens is right for you!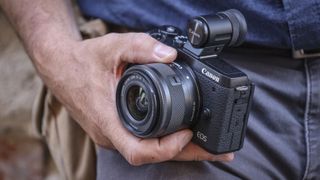 Several Things You Should be Aware of Before Purchasing
Best Lens for your Canon M50
First and foremost, you must determine the reason for your need for a new lens. Do you want to improve your portraiture, shoot more landscapes, take close-up photographs, vlog, and experiment with a variety of other shooting techniques? Lenses for various sorts of photography can be found in the list below for you to pick from.
The Canon M50 with an APS-C sensor is a half-frame camera, which means it has a crop factor of around 1.6x when compared to a full-frame sensor. As a result, you must consider that, for example, a 15-45 mm lens is not exactly equivalent to those focal lengths. You must multiply it by 1.6 in order to obtain the exact focal length, which is 24-72 mm in this case (for a 15-45 mm lens).
One drawback of the Canon M50 is that it does not come with built-in image stabilization (IS) in the camera body itself. Lenses, on the other hand, can make up for this shortcoming. The Canon M50 is compatible with a number of lenses that include built-in image stabilization. But it's not in every lens, so keep an eye on it for better steadier photographs, especially when you are a novice.
Top 3 Canon m50 lenses
Canon EF-M 15-45mm f/3.5-6.3 IS STM-1st Choice
TAMRON 18-200MM F/3.5- 2nd Choice
SIGMA 30MM F/1.4 DC DN- 3rd Choice CONTEMPORARY
LENSES FOR THE CANON M50 THAT ARE THE MOST ALL-ROUND
All-around lenses are those that provide a wide range of shooting options, ranging from close-up to far-away shots, depending on the model. It's the ideal solution for individuals who don't want to carry around a bunch of lenses, but only the one that's right for the situation at hand.
1. Canon EF-M 18-150mm F/3.5-6.3: Telephoto zoom lens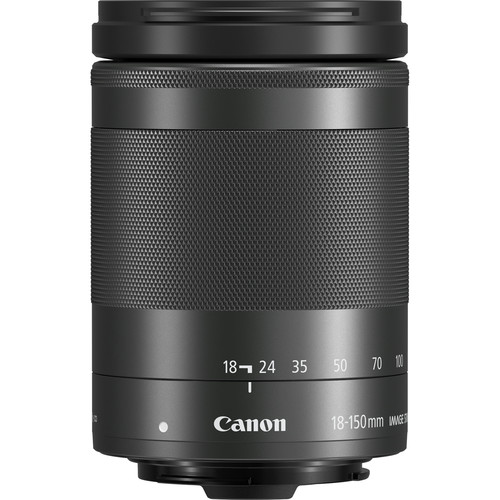 The Canon EF-M 18-150mm f/3.5L IS USM is a versatile all-in-one lens that is ideal for when you have limited room in your bag but want to capture a variety of various types of images. It is available in black or silver. With the lens, you can take wide-angle shots, portraits, landscapes, and close-ups of objects up to a certain distance.
It is one of the largest and heaviest lenses available for the Canon M50. While its weight is a negative, the fact that it has a wide zoom range is a plus. A 300g (10.6 oz) weight and an 86.5mm length characterize this item (3.4 inches). For a superzoom lens, it's surprisingly lightweight and compact.
Another significant drawback of the lens is its limited aperture range. As a result, you will not get the greatest results when photographing in low-light circumstances. There is an aperture range of f/3.5 (18mm) to f/6.3 (100mm) (60mm).
When shooting handheld, the presence of built-in optical image stabilization is a significant advantage. Additionally, its silent focusing performance is a huge plus for vloggers.
Overall, this is one of the best lenses for the Canon M50 if you want to travel and don't have a lot of space for bulky camera equipment.
Top 3 Canon EF-M 18-150mm Options
2. TAMRON 18-200mm f/3.5-6.3 lens
There is also the Tamron 18-200mm f/3.5 Di VC USD, which is another all-in-one lens to consider. It contains features that are similar to those of the previous Canon superzoom lens that was released. Its one minor benefit is that it has a focal length of up to 200mm, which is significantly longer than the competition.
It's also relatively light and tiny (especially for a superzoom), making it convenient to carry along with you wherever you go. 400g (14.1 oz) is the weight of the lens, while 96.6mm is the length of the lens (3.8 in.). A little more than a prior Canon zoom lens in terms of price.
When you don't have access to a tripod, Tamron's vibration correction (VC) technology comes in helpful for capturing steady images in low light. With the help of VC technology, it is now feasible to take excellent images with a handhold.
As was the case with Canon, the lens's most significant flaw is its limited aperture range. It's also not recommended for use in low-light settings.
Top 3 TAMRON 18-200mm Options
Best Portrait Lens for the Canon M50 (Optical Zoom)
Portrait photography is the most widely used type of photography in the world. It is possible to utilize a variety of lenses, but portrait lenses will give you the greatest results and make you appear more professional in your photographs.
3. SIGMA 30MM F/1.4 DC DN CONTEMPORARY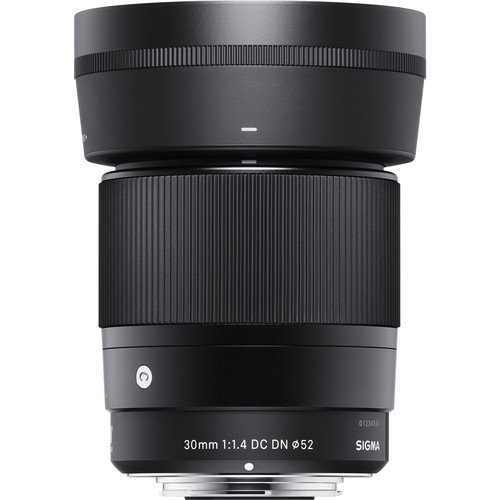 For years, Sigma lenses have been praised for their superb quality at a low price. Sigma has developed three different types of prime lenses for the Canon M50. This one is ideal for novices who want to get their feet wet in the world of portrait photography.
When compared to other Canon M50 lenses, this one is a little heavier than its counterparts. It has a weight of 265 g (9.35 oz.) and a length of 73.3 millimeters (2.89 in.). Despite this, it does not take up a lot of space in your suitcase.
Because of the low cost and high quality of the product, it would be an excellent investment for beginners. This is especially true when taking photographs where there is little need to think about lighting. A lens with an aperture of f/1.4 is an exceptionally fast lens that produces sharp photographs with a rich contrast color palette and a high level of contrast. An excellent partner for taking your portrait photography to the next level.
In addition, for video, a large aperture is required. Autofocus is another feature that videographers may take advantage of while using Sigma lenses. You can quickly shift your attention from one thing to another at that location.
In general, it would be an excellent pick for your first portrait lens purchase. You won't be able to get any other high-quality portrait lenses for that price anywhere else. Another portrait lens to consider is the somewhat more expensive Canon EF-M 32mm f/1.4 STM Lens, which is available in both black and white.
Top 3 SIGMA 30MM Options
4. Canon EF-M 55-200mm f/4.5-6.3 IS STM
This telephoto lens comes with a plastic mounting plate, just as the EF-M 15-45mm regular zoom. Despite the fact that it's less durable than a metal plate, it's still perfectly stable and helps to reduce the weight down to just 260g in this particular instance. Despite the fact that it does not have a retractable construction, it is nevertheless relatively compact for a telephoto zoom, measuring 61x87mm.
As you might anticipate, the physical length of the lens increases as the zoom range increases, but overall, it's a very pleasant lens to use.
There is a tiny difference in focal lengths between where the 15-45mm lens ends and where the 55-200mm lens begins, but this isn't significant enough to cause any meaningful problems in practical terms. According to full-frame measurements, the lens has an effective zoom range of 88-320mm, which is rather usable even though it does not have quite the same telephoto reach as, for example, Canon's SLR lens with an APS-C format of 55-250mm. In the end, the EF-M lens is an excellent compromise between its small size and its telephoto capabilities.
Top 3 Canon EF-M 55-200mm Options
5. Canon EF-11-22mm f/4-5.6 IS STM
Following in the footsteps of the more widely available standard and telephoto EF-M zoom lenses, this is the obvious choice for anyone seeking an ultra-wide viewing angle in a compact package.
Broad-angle zoom lenses are normally massive and heavy, but this one has the same retractable design as the EF-M 15-45mm lens, allowing it to cram a seriously wide field of view into a physical package that measures just 61x58mm.
Although the long-zoom aperture of f/5.6 is slightly wider than the normal and telephoto zooms, the construction of this lens is noticeably better, with a metal rather than plastic mounting plate instead of plastic.
Top 3 Options
6. The Canon EF-M 11-22mm f/4-5.6 IS STM lens is reviewed in more detail here
There is an additional charge for the lens hood, which is advertised as an "optional extra" but is highly recommended for decreasing ghosting and flare while also providing physical protection to the front element. In contrast to many ultra-wide zooms, this one incorporates an attachment thread (55mm) that allows for the simple addition of filters to it. The image quality is excellent, on par with that of the EF-M 15-45mm and 55-200mm lenses, despite the fact that the image stabilizer is only 3-stops more effective than that of the EF-M lenses.
Top 3 Options
7. Laowa 9mm f/2.8 Zero-D Optical Zoom
This Laowa lens is compatible with a variety of different kinds of 'crop sensor cameras. A powerful viewing angle of about 115 degrees is provided by the EF-M mount edition, which outperforms Canon's 11-22mm zoom in the process. Although it has a wider field of view, the Laowa lens creates so little distortion that it can be considered essentially distortion-free.
That's a significant advantage when you consider that this independently built Canon-fit lens does not support in-camera adjustments.
Because there are no built-in electronics, focusing is a completely manual process, and you'll also need to shoot in Manual mode, with the aperture controlled by the lens's control ring rather than the camera's control ring.
Positive aspects of using this lens include the fact that it is a hands-on experience and the fact that the vast depth of field means that focusing isn't a big deal, even at the lens's remarkably short minimum focus distance. The image quality is excellent, and the lens is wonderfully tiny and lightweight while maintaining a sturdy build.
Top 3 Options
THE BEST MACRO LENS FOR THE CANON M50
Macro lenses aren't widely utilized or popular among photographers. It's due to the limited employment of close-up detailed photos. However, these are still employed to give a new dimension to your photography or film.
8. STM CANON EF-M 28MM F3.5 MACRO
This is a one-of-a-kind lens. To begin with, it is one of the lightest macro lenses with autofocus. Built-in LED lights are another interesting feature.
As previously said, this Canon macro lens is quite light: it weighs 130g (4.59 oz.) and has a length of 45.5mm (1.79 in.). The market's tiniest macro lens.
There aren't many lenses with built-in LED lights. Close-range photography can be difficult because the item in front of the lens restricts entering light to the camera. This issue is rectified by installing LED lights in the front.
Built-in picture stabilization and focusing are very useful tools for both videos and images. These are crucial, especially for newcomers.
It is often utilized in videography to create varied scenes with intricacies. Furthermore, the focusing system is extremely quiet.
Overall, it's one of the greatest Canon M50 lenses for experimenting with new video/photography techniques. LED lighting, autofocus, and picture stabilization make it simple to use for beginners.
Top 3 Options
BEST CANON M50 TRAVEL LENS
The fundamental keywords for travel lenses are simplistic design, rich colors, and no need to change lenses. It is more pleasant to travel without large photographic equipment, depending on the size of the camera bag.
9. STM CANON EF-M 15-45MM F/3.5-6.3 IS
It's the most common kit lens for the Canon M50, so you'll most likely get it when you buy the camera. It's an excellent lens for novices because it produces high-quality images and can be used for a variety of purposes.
Because of its lightweight form, it would make an excellent travel companion. It weights 130 g (4.6 oz.) and the length is 60.9 mm (2.40 in). (2.40 in.).
It's the ideal lens for beginning photographers and videographers because it includes a number of useful functions. Image stabilization is integrated in for higher quality and crisper scenes. It's a zoom lens with the ability to shoot wide-angle street photography, portraits, and long-range shots.
Overall, it's a solid multi-purpose lens that can handle a variety of tasks for novices. If you wish to upgrade, I recommend all-around lenses like the Canon EF-M 18-150mm f/3.5-6.3 IS and the Tamron 18-200mm f/3.5.
Top 3 Options
BEST LOW-LIGHT LENSES FOR THE CANON M50
When there isn't a lot of light coming into the camera, low light lenses come in handy. When it's already dark outside or at an indoor event where there isn't a lot of natural light. The first thing you should look at when buying a lens for low light circumstances is the aperture. The wider it is, the more light that can enter the camera.
10. LENS CANON EF-M 32MM F/1.4 STM
An outstanding low-light lens that is ideal for a variety of photography and filmmaking shots. It's a reliable prime lens with features that appeal to the person looking through the viewfinder.
This strong lens is yet another well-designed compact lens. It weighs 235 g (8.3 oz.) and measures 56.4 mm in length (2.22 in.). The ideal all-purpose lens.
It's popular among portrait photographers because it's a prime lens with a large aperture (f/1.4). It enables you to produce crisp images with the option of a blurred backdrop or dreamy bokeh. A quick lens that produces sharp, detailed images.
It's also a useful tool for videography. Quiet focusing is a fantastic tool for vloggers who want to prevent undesired camera noises. With a wide aperture, it is also easier to shoot night scenes with little noise.
Overall, this lens is fantastic for a variety of reasons. It's ideal for portrait shooting in low light, and it features quick autofocus.
Sigma 30mm f/1.4 DC DN Contemporary, Canon EF-M 22mm f/2 STM, and Sigma 16mm F1.4 DC DN Contemporary are other low-light lenses.
Top 3 LENS CANON EF-M Options
Our Final Thoughts
In comparison to other models and manufacturers, Canon M50 lenses are rather small and compact. Depending on your area of interest, you can select from a variety of lenses. Hopefully, you've found all of the information you need to select the best lens for your Canon M50. You can always ask further questions in the comments area below!
Frequently Ask Questions
What lenses are compatible with the Canon M50?
1. The 5 Best Canon EOS M50 Mark II Lenses
2. 5-6.3 IS STM Canon EF-M 15-45mm F3.
3. EF-M 22mm F2 STM lens from Canon.
4. Canon EF-M 32mm F1.4 STM lens
5. Sigma 56mm F1.4 DC DN Contemporary lens
Can DSLR lenses be used on the Canon M50?
The M50 employs EF-M lenses, a semi-new type of lens mount that is compatible with Canon's mirrorless APS-C camera series. Though Canon's mirrorless portfolio isn't technically new, the lenses available pale in contrast to those available for DSLRs.
Is the Canon M50 suitable for still photography?
Still, photos from the Canon M50 are good, comparable to other Canon APS-C cameras, and even better than older models. Because it has a crop sensor, it is more susceptible to noise in general, although the image quality is equivalent.